Working together to build a stronger community for all. This is how we give back.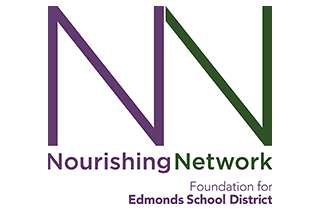 For the past 10 years Industrious has had the privilege of hosting of partnering with the Nourishing Network and hosting our annual Fran for Food Drive. The Nourishing Network was created in partnership with and at the request of the Edmonds School District because hungry children struggle to learn. More than 650 ESD students experience homelessness during the school year, and on average 33 percent of families qualify for free and reduced federal lunch programs. With the strong support of our community, we are able to donate hundreds of pounds of food to help the Nourishing Network restock their pantry and keep feeding the children all year long.
Beginning in 2021, Industrious will be partnering with the University District Food Bank to help support their Packs for Kids Program. Packs For Kids is a program that succeeds because of the hard work done by their school partners. School staff identify youth for the program and ensure that food gets to them every Friday afternoon. Parent volunteers collect the food from the food bank, take it to the school, and package the food into individualized portions so that it is ready to go. The food bank works to ensure that food is available to their fourteen partner schools – Roosevelt High School, Ingraham High School Eckstein Middle School, Jane Addams Middle School, Hazel Wolf K-8, Olympic View Elementary, Sacajawea Elementary, Sand Point Elementary, Lowell Elementary, View Ridge Elementary, Greenlake Elementary, Wedgewood Elementary, the Haring Center, and Middle College High School.
Industrious has had the honor of working with the Freedom Projectz organization since 2017. Through their organization Industrious has had the opportunity to support children of lower income demographics by collecting and donating hundreds of new backpacks full of school supplies. These donations allow all the kids to begin the school year on a level playing field as their piers, and with the confidence knowing they have all the tools they'll need to make it through the school year!
Every June, during Pride month, Industrious designs several limited-edition Pride themed items to support the LGBTQ+ community. 100% of the proceeds from these sales are donated to the Pride Foundation whose mission is to build a better, safer, and more equitable world for LGBTQ+ people and our families in the Northwest.
Industrious is proud to donate our unsold apparel items, as well as the hundreds of items donated during our clothing drive by our incredibly generous community. These items are given to young adults in the Seattle area that are in deep need of these everyday items. ROOTS Young Adult Shelter builds community and fosters dignity through access to essential services and a safe place to sleep for young adults experiencing homelessness.